The oil used in electric chainsaws is crucial to the proper use of the saws.
Electric chainsaws do not use oil-based or gas sources of energy but need oil for chain and bar lubrication.
Knowing how a chainsaw oil works help understand the need for oil. Most chainsaws have an automatic oiling system.
Why the Right Oil Is Important for Chainsaws
When you understand the need for oil in an electric chainsaw, the next decision is what kind of oil to use. There are some factors to consider.
The chain and bar can use similar oil. The oil used in gas-powered chainsaws can also be used. This article will help in selecting oil to use for the chain or bar of an electric chainsaw.
How to Buy the Right Oil for Electric Chainsaws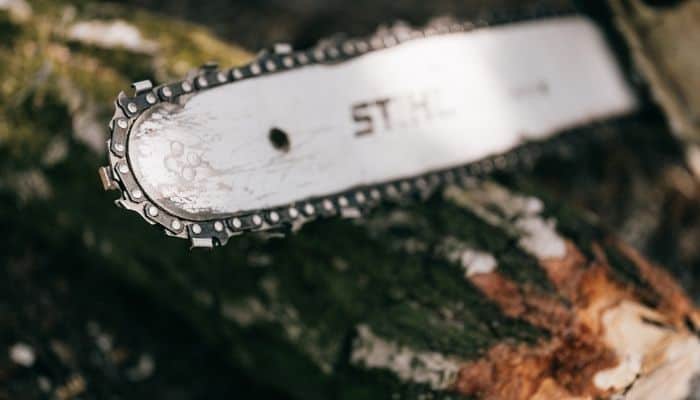 Types of chainsaw oil differ.
Usually, they are proprietary plans of refined mineral oils. They include inhibitors for anti-wear corrosion and oxidation.
A high tack additive is added to help oil stick to the chain and bar while in operation.
Oil Based on the Season
Chainsaw oil is classified as summer oil and winter oil. Summer oil is thicker.
It helps to stick to the bar and chain.
If the oil is not thick enough, it flies off the machine quite quickly. Winter oil is thinner.
There are reasons for that. It helps when pouring oil into the oil reservoir and circulates in cold temperatures.
The heat in summer thins the oil, and cold air in the winter thickens it.
Steps in Choosing the Proper Oil
Three things to keep in mind
Choose an oil that reduces 'throw off.' It should hold the chain and bar better, which enhances the saw's performance.
Use an oil that works well in the temperature of the seas. Low temperatures change the viscosity of the oil and reduce the flow rate. Opt for a product usable for wide temperature variations.
Use oil suitable for the environment. If using a saw primarily for pruning, consider a biodegradable or vegetable-based oil. It is not only eco-friendly, but it also prevents harm to brushes and trees.
Manufacturer Recommended Electric Chainsaw Oil
Husqvarna recommends Husqvarna 610000023 Bar & Chain Oil, Quart.
It optimizes the cutting performance of the saw by reducing friction and heat. A premium blend of tackifier additives and base stocks decrease high-speed throw-off.
The manufacturer also recommends Husqvarna X-Guard Premium All Season Bar & Chain Oil, 1 Gallon. It can be used with all chainsaws.
The oil extends the sprocket, chain, and bar life. It reduces wear and friction. High tack reduces oil sling.
Oregon recommends Oregon 54-059 Bar and Chain Lube, Black, 1 Gallon.
The chain and bar lube is explicitly compounded to provide high tackiness that prevents throw-off under adverse weather conditions.
Poulan Pro recommends Poulan Pro 952030203 Bar and Chain Oil – 1 Quart. It reduces wear on the chain and helps keep it from jamming.
Why Right Oil Is Important for Electric Chainsaws
Proper chainsaw oil is critical for preserving the chainsaw life.
Understanding the chainsaw oil helps make the right choice when purchasing the correct type of oil and ensure the chainsaw is adequately maintained.
Like a vehicle, forgetting to top the oil can cause damage. Oil is needed for maintenance purposes. It keeps the power tool working automatically while in use.
The chainsaw oil works to keep the chain and bar running correctly. It is a part of the saw that requires constant attention to avoid problems.
It is essential to keep a chainsaw running correctly..
Can I Use Vegetable Oil in My Electric Chainsaw?
Yes, you can use vegetable oil can be used and it has some advantages. It is
Eco-friendly
Effective
Safer for the user
Cheaper
Readily available
Vegetable oil poses no threats to the environment.
Its natural properties include a high viscosity index, a high flash point, resistance to shear, and excellent lubricity.
Canola-based chain oil has a low vapor pressure that reduces fume inhalation by users. The average cost of four liters of chain oil is $12.99. Three liters of canola oil has an average price of $7.99.
Can I Use Motor Oil for My Electric Chainsaw?
Motor oil is among the most readily available and popular substitutes for chain and bar oil.
There are things to know before using it. Not all motor oil is recommended for chainsaws, SAE 30 is the recommended lube for chainsaws. During the winter, SAW 10 is suitable. When compared to other chain and bar oil substitutes, motor oil is relatively inexpensive.
Summary
An electric chainsaw is more eco-friendly than other chainsaws.
The saws are gaining popularity. Like other chainsaws, they need oil to lubricate the chain and bar to get proper cutting.
The right type of oil has to be used. This article provides information about the kind of oil needed and what happens if the right type is not used.