In Brief: Buy vs Rent An Electric Chainsaw?
Should you buy or rent an electric chainsaw? For regular use, buying is better than renting, but if you only need it once or need a specialty saw for one job, renting wins out. Account for maintenance and delivery costs, as well as liability and storage concerns. Buying will be easier than renting unless you have a rental place nearby.

If you have found yourself in need of a chainsaw for a job at home, then you will need to decide whether it is better to buy or rent an electric chainsaw.
There are advantages to both, but if you pick the wrong option for your needs then you could be left out of pocket.
This guide will go through the various considerations you should think about before buying or renting an electric chainsaw.
Buy vs Rent An Electric Chainsaw
The following table shows you at a glance how buying vs renting an electric chainsaw compares:
Table : Buy vs Rent Electric Chainsaw
| Consideration | Buy | Rent |
| --- | --- | --- |
| Regular vs Occasional Use | Better for regular use. | Better for one-off use. |
| Cost | Expensive in the short term. | Expensive in the long term. |
| Chainsaw Type | Better for standard types. | Better for unusual types. |
| Maintenance | Maintenance can be expensive and time-consuming. | No need to perform maintenance. |
| Storage Safety | Needs a safe place to store. | Storage is temporary. |
| Liability and Damages | No liability for damage. | Damage can be expensive. |
| Access | More availability. | Can be difficult to source. |
Now, let's discuss these points in a little more depth.
Regular vs Occasional Use
Whether you buy or rent a chainsaw will likely come down primarily to how often you need one.
If you only need a chainsaw for one job, and will probably not need it again, then you are unquestionably better off renting the tool.
If you need a chainsaw for regular work, you will almost certainly be better off buying one.
As a general rule of thumb, you should buy if you will need to rent more than 5-10 times.
Cost
Related to the last point, you should work out the costs associated with both options.
A good chainsaw will last around 10 years with regular maintenance, whereas the battery will last for around 3 years (though it may be more).
Calculate the cost of the chainsaw with three batteries, plus the maintenance tools you need, then divide the total by the number of times you will use it in that time.
Compare that cost with the cost of a rental, accounting for any extra charges, to see if the costs stack in favor of renting or buying a chainsaw.
Chainsaw Type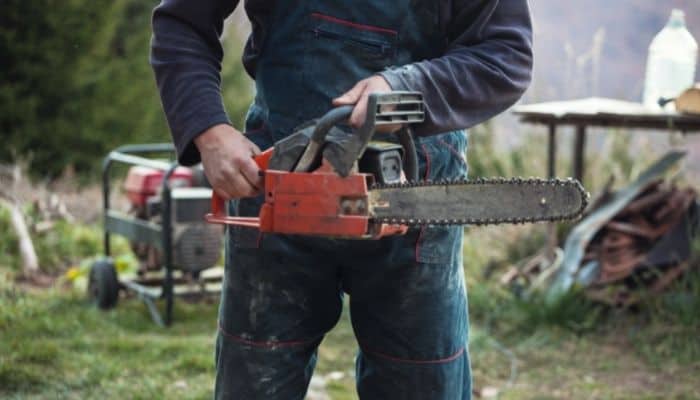 The type of chainsaw you need for the job at hand will form an important part of your decision-making.
If you need a big felling saw to take down a large oak, the chances are that you will never need a chainsaw that large again. Buying one would be a waste of quite a lot of money.
But if you need a small, basic chainsaw that you could find a use for in the future, then buying might be the better option.
Maintenance
Maintenance costs are nothing to be balked at.
Bar and chain oil, files, new chains, and replacement wearable parts like seals are fairly affordable until you multiply them over the lifetime of the saw.
The maintenance costs are not just counted in dollars. If you buy, you will need to learn how to properly maintain an electric chainsaw, which takes valuable time.
You will need to account for that when making your decision.
If you rent the saw, you will not need to worry about maintenance.
Storage Safety
How confident are you that you can safely store your chainsaw when it is not in use?
When you rent a chainsaw, you have possession of it for at most a few days. You can set aside a storage space and keep kids, pets, and poor conditions away from it for a while.
If you buy, then you will need a secure place where you can trust the kids or your pets to never wander into.
You will also need to consider what to do with the saw during winter and will need to perform storage maintenance too.
Liability and Damages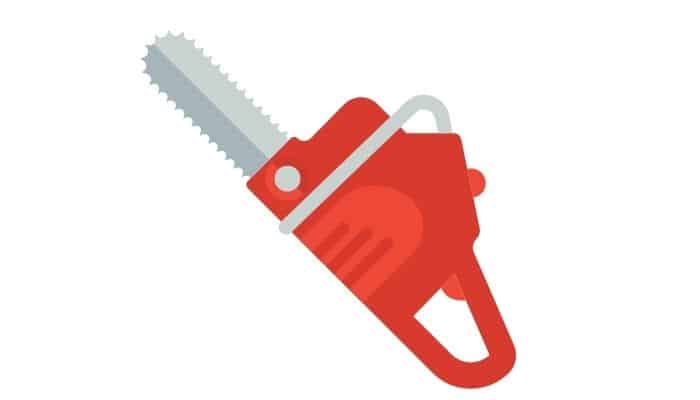 If you damage a chainsaw that you own, you are not liable to pay to have it replaced or repaired.
Of course, you will be down a chainsaw, but nobody will be hounding you to pay to replace it.
When renting, the charges for damage to a chainsaw can be extortionate.
There are also some situations where you can be rented a damaged or poorly maintained saw, only to find you are charged for that damage when you return it.
Availability
Finally, a big part of whether you buy or rent an electric chainsaw will be the availability of options for either.
If there is a rental place near you, then renting can be an excellent option.
However, if you need to travel or order online, the cost of delivery and return can make the total cost less viable.
There are many more places that sell chainsaws, and even if you have to order online you will only pay for one delivery.
Summary
We hope this guide has helped you to decide whether to buy vs rent an electric chainsaw.
With a little forethought, you can work out whether it is worth buying an electric chainsaw or if renting one will work out cheaper and better.
If you have any questions or comments about this guide or buying and renting chainsaws in general, please feel free to leave them in the section below.