In Brief: Review of Race Ramps RR-56-2 Two-Piece Car Ramp
Whether you own a sports car or need a ramp for any low ground clearance vehicle, Race Ramps is here with the solution. Be it high-end sports cars, stanced cars, or low front end bumpers, these ramps are here to bridge the pesky distance, which will help elevate your vehicles effortlessly. Made of high-density foam, these car ramps have a broad audience that can vouch for its effectiveness. For easy ramping with reliable performance, we would suggest that you give Race Ramps RR-56-2 a shot!
Race Ramps is a part of Race Ramps LLC, which is headquartered at Germantown, Wisconsin. The singular mission of Race Ramps is to provide top-notch automotive tools and accessories to their buyers.
The notable feature of all Race Ramp products is that they are manufactured in the USA with all USA-made parts. They follow a US-patented manufacturing process for delivering unparalleled goods.
Their diverse product offerings include car storage accessories, garage & service equipment, trailer ramps, tow ramps, racks & lifts, wrap ramps, and display & show accessories. The winner emerges to be their ramps.
The product we are going to discuss in the following sections of this article is the two-piece car ramp available as a part of their garage equipment.
These ramps are widely sold along with products like cribs, chocks, and other accessories.
By the end of this article, you will be well aware of the specifications and related product information that will help you understand if the product is a good fit for you.
Key Specifications of Race Ramps RR-56-2 Two-Piece Car Ramp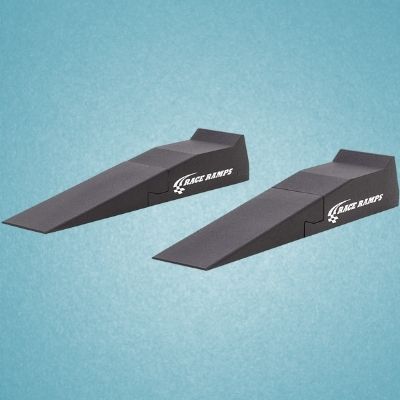 The 56-inch length of these car ramps provides 8 inches of total lift for easy maintenance or repair work under low ground clearance vehicles.
The angle of approach on this ramp is 10.8 degrees. The ramp can accommodate tires that are up to 10 inches wide.
The ramps have been designed to be easy to transport, use, and stow away when not in use. Each ramp is fitted with a carrying strap for portability. They are also ideal for displaying your cars if you own a garage.
These ramps are non-conductive and, therefore, do not transfer any heat or cold. They are skid-proof and do not scratch the floors.
The capacity of each ramp is 1,500 pounds, and they are sold as a pair. These ramps are made with 100% high-density foam and feature a traction coating.
The two-piece design of the ramp allows the option of removing the second-half once stability has been achieved. This allows better access to the vehicle.
The technical specifications of these ramps are tabulated below.
Parameters
Details
Load Capacity

1,500 lbs.
Total Weight Supported

6,000 lbs.
Ramp Length
56 in
Ramp Width
12 in
Ramp Height
10 in
Lift Height
8 in
Degree of Approach
10.8
Tire Width Supported
10 in
Material
High-density foam with traction coating
Weight
10 lbs. per ramp
Number of Ramps

2
Manufacturing Location

USA
Warranty

30 days
Warranty / Repairs
Race Ramps provides a 30-day guarantee for these two-piece car ramps.
If, for some reason, you are not satisfied with the product, you can return it for a full product-only refund or exchange within 30 days of the date of purchase.
The product has to be used, cleaned, and maintained per the guidelines set by the manufacturers. Details regarding the same can be found at https://www.raceramps.com/warranty/a/r9/.
For more information, Race Ramps can be contacted via call at 800-213-5883. There is also a contact page available at https://www.raceramps.com/contactus.aspx.
Customer Review Analysis of Race Ramps RR-56-2
The customers who have used these car ramps have given it glowing reviews. This product passes the test of strength, reliability, and durability with flying colors.
The ramp has been rated 5/5 for its ease of use. Some of the other factors that have been appreciated are the sturdiness and the value for money.
The coating on the ramp helps prevent slippage. The customers have used this car ramp with a wide range of vehicles and have faced no issues at all.
The product works as expected and is highly recommended by all the users.
Pros and Cons of Race Ramps RR-56-2
Pros
Perfect for low ground clearance vehicles
Easy to use, store or transport
Fitted with carrying straps for portability
Does not conduct heat or cold
Made with 100% solid lightweight high-density foam
Doesn't skid or cause scuff marks on the floor
Cons
A warranty should be offered
When and Who Should Use
These car ramps are perfect for supporting all kinds of vehicles under 6,000 pounds. Each of the ramps is 12 inches wide and can support tire widths up to 10 inches.
These ramps are perfect for cars with low front bumpers or cars that have low ground clearance in general.
The ramps help in elevating the vehicles to 10 inches and support general maintenance and cleaning activities.
Recommended Accessories with Race Ramps RR-56-2
In case the clearance of your car is really low, Race Ramps provides compatible ramp extenders for the RR-56-2 model.
These extenders further lower the angle of approach to make it easier for the car to mount the ramp. The same can be purchased in a pair at:
Some of the Race Ramp accessories that can come handy for mounting or displaying vehicles are listed below.
Racer Wheel Chock
Show Cribs
Trailer Steps
FAQs
I am considering purchasing these car ramps for supporting Ford, Chevy, or Dodge pick-up truck. Will these be suitable for the same?
Each of the ramps has 1,500 pounds load capacity, and when all the ramps are in use, the support capacity is 6,000 pounds. If the pick-up trucks weigh less than this rated capacity, the ramps can be used.
What is the material used for making these ramps?
The car ramps are made of 100% solid, high-density foam.
Are there any safety features on this ramp?
The top of the ramp features a raised lip that provides a gentle stop, which eliminates the need for a spotter.
What is the angle of approach for this ramp?
The angle of approach is 10.8 degrees.
Our Recommendation
The Race Ramps name is associated with quality ramps that can be used with all kinds of vehicles.
The ramps are well-suited for carrying out regular maintenance and repair work for low ground clearance vehicles.
The ramps are made of quality foam and are also lightweight, which makes them easy to transport.
The ramps are fitted with carrying straps to ease the portability. The two-piece design also allows removing a part of the ramp when not in use.
Most importantly, the fact that the ramps are made in the USA is the ultimate testimony to its quality.
Wrapping up, we would highly recommend this Race Ramps RR-56-2 ramp to everyone as an essential addition to any mechanical workshop!