Top 3 Picks
pressed for time? Check out our top picks
How We Decided: 29 products considered. 800+ reviews analyzed, 14 research hours spent, 25+ info. sources referred
Are you looking for the best synthetic winch rope? Synthetic winch rope plays a crucial role when there is a need to pull a vehicle from one location to another.
However, every synthetic winch rope doesn't meet this purpose effectively. Therefore, it is crucially important to buy the best and the right synthetic winch rope for your vehicle.
This article will help you in learning about the best synthetic winch ropes along with a buying guide.
Best Synthetic Winch Ropes
1.

Extreme Max Devil's Hair
Best Overall Synthetic Winch Rope
It is believed that there is a demon of great power whose hairs, if harvested correctly, could make the strongest and lightest rope ever conceivable.
Extreme Max does not claim to really have gone to the depths of The Pit to make this synthetic rope but promises that no devils were harmed in its making.
Key Specifications
Length: 50' with splice
Width: 3/16"
Max Force: 6000lbs
Material: Proprietary SynSteel braided
Fit: ATV and UTV winches
Pros
Lighter and sturdy
Ideal for aquatic use
Assorted colors
Cons
Colors increase in price
Not tough enough for plowing driveways
Available in a wide selection of colors, the Extreme Max Devil's hair is an ideal investment for any light-duty tasks. It fits any ATV and UTV winches and is made sturdy enough for basic use.
It is the perfect synthetic rope to use for aquatic and marine purposes. Ideal for pulling boats or any other task, it is a good gift for any enthusiastic fishermen.
The quality of the rope is only intended to hold up to the ancient mythological legend. Inspired by this idea, Extreme Max went beyond to create a rope so light that it would float, and yet be strong enough to perform its tasks.
Undoubtedly the Devil's Hair is an ideal utility for any fisherman.
2.

Hooai Synthetic Winch Rope
Best Synthetic Winch Rope for the money
If you want a good replacement rope or an entry-level product for your first try, then Hooai's Synthetic Winch Rope is a perfect choice.
It is presented at the most affordable price and comes with the kind of quality unexpected of the price tag. It is ideal to use for off-road adventures, professional towing, or emergency recoveries.
Key Specifications
Length: 48'
Width: 1/4"
Max Force: 7000lbs
Material: Heavy-Duty Lightweight material
Fit: Any ATV and UTV winches
Pros
Included rope guard for fray protection
Affordable and reliable
Cons
Not suitable for tougher jobs
Made to withstand all the elements of practical winch use, Hooai went all out to provide the most affordable and reliable winch rope that you may encounter. It comes with a heavy-duty nylon eye guard and splices easily to fit any winch.
Its performance is up to average standards and is an ideal utility for professional towers. It is cheap to replace and keep in stock and will last longer than traditional cables.
It is also the safest option due to its included heat-proof rope guard and splice guard.
You can keep it as a spare utility, and if you need a replacement for your previous rope, it will meet your standards. Light and safer than cable, this synthetic rope is also ideal for the average homeowner.
However, there were some reports that it is not the most suitable for plowing driveways in winter. If you are using it for light-duty or adventurous use, it will be a good investment.
3.

Yoursme Synthetic Nylon Winch Rope
Best Synthetic Winch Rope for road visibility
Yoursme's Synthetic Nylon Winch Rope is a tough design using 12 individual rope strands for the best durable quality. It is tough and strong enough to withstand high pressures.
It is ideal to use with any kind of winch for nearly any activity. From off-road adventuring, heavy hauling, and everyday tasks around the house, the Yoursme is designed for practicality.
Key Specifications
Length: 50'
Width: 1/4"
Max Force: 8000lbs
Material: Heavy-Duty Nylon
Fit: Any SUV, ATV, or UTV winch
Pros
Light and easy to use
Brightly colored for improved visibility
Cons
Endures a few bad customer reports
The strength of the Yoursme Synthetic rope is surprisingly robust. Most users have found it reliable and capable of performing in heavy-duty situations.
Because it is easier to use, lighter, and safer, the Yoursme is an ideal winch rope to have.
A few customers complained about it snapping well below its max load, but it seemed to have been factory defects. Most other investors were delighted by the quality of Yoursme's Synthetic Rope.
It is ideal for anyone, from using as a towing cable, or for everyday home use, it will not disappoint.
For increased durability, the Yoursme Synthetic Nylon Rope has added protection against chemical corrosion and comes with a rope guard sleeve to protect against fraying.
It also includes a solid metal rope loop for protection and convenience. It splices easy and is made of lightweight materials. It is ideal as a replacement for old out-dated winch ropes.
4.

Auxmart Synthetic Winch Rope Kit
Best Synthetic Winch Rope for Automotive recovery
If you need an automotive designed winch rope, ideal for recovering and towing heavy vehicles, then Auxmart's Synthetic Winch Rope Kit is the perfect purchase for you.
People looking for the toughest winch rope to use in the worst conditions will also adore this Auxmart product.
Key Specifications
Length: 95'
Width: 3/8"
Max Force: 20500lbs
Material: High-quality Dyneema fibers
Fit: Universal
Pros
Toughest quality at a good price
Full package sale
Innovative and versatile
Extra safety features
The Auxmart is as good as it gets, compared to other synthetic winch ropes. It is so good a product that it is the ideal replacement for unsafe metal cables.
Not only is the innovative material used in its creation lighter than steel, but it boasts with more strength than the closest steel competitor.
If you are looking to replace a steel cable, the Auxmart Synthetic Winch Rope is the most recommended on the market. It is sold as a single package, including the rope, a D-Shackle, and a versatile protection sleeve.
The sleeve can be positioned to cover dangerous areas or removed to use as a tree trunk protector.
5.

Off-Roading Gear Synthetic Winch Rope Kit
Best Synthetic Winch Rope for adventuring
As the name suggests, Off-Roading Gear's Synthetic rope is specially made for the toughest off-road conditions. It comes as an all-inclusive kit, including the rope, shackle, and stopper.
It is ideal for any adventure junkie looking for the best winch rope to fit for their adventures.
Made from the toughest and lightest materials, it is designed to be durable and tough. The rope is also, by standard, fitted with a spliced eye and a terminal on either end. The terminal can be removed if unnecessary.
Key Specifications
Length: 50'
Width: 3/16"
Max Force: 4400lbs
Material: Heavy-Duty UHMWPE Synthetic Wire
Fit: Universal
Pros
Comes in an all-inclusive package
Ideal Off-Road Winch Rope
Tough and reliable
Cons
A few defective products may be in circulation
With the strongest shackles and universally fitting design, the Off-Roading Gear Synthetic Winch Rope is an ideal investment for adventure.
It is strong enough to handle what you throw at it and comes in different widths for stronger jobs. The thickest design can handle up to 18000 pounds.
Only one or two customers complained about defective units, but everyone else was satisfied.
6.

Ranger ULTRanger SY45
Best Synthetic Winch Rope for safety
Ranger is a name synonymous with quality rope products. The SY45 is no different. Their product is produced using the best and lightest materials.
It is sold as an inclusive package comprised of the rope, shackle, and sheaths for both ends of the rope.
In its design, it uses stainless steel to make the tube thimble. This offers superior eye protection and is the ideal winch rope kit for safety preoccupied customers.
If you are looking for the neatest and safest rope winch to invest in, the Ranger ULTRanger SY45 would be most suitable. It is tough and durable, making it ideal for adventurous or professional use.
Key Specifications
Length: 50'
Width: 1/4"
Max Force: 7500lbs
Material: UHMWPE Synthetic Fiber
Fit: Universal
Pros
Full house kit
Tough product from a reliable brand
Universally fitted and versatile for any function
Neat and attractive
Cons
Minimal but some complaints
Made from high-quality synthetic fiber, the SY45 is a tough winch rope suitable for all conditions and circumstances. It is strong but still light and is easy to use and install, making it the ideal utility for professionals and enthusiasts.
As a wholesale kit intended on refining the quality of safety, it is a steal at its price.
7.

Warn 87915 Spydura Synthetic Rope
Best Synthetic Winch Rope for long reach
This rope is made from unique polyethylene material, weaved to withstand harsh conditions and rugged performance. It is a neat black color of an attractive design that is lighter.
It is also simpler to use than traditional synthetic rope. It is treated to be more resilient towards UV damage and chemical corrosion to ensure it remains functional even in daily industrious use.
Key Specifications
Length: 100'
Width: 3/8'
Max Force: 4000lbs
Material: Unique UHMWP synthetic fiber
Fit: Universal
Pros
Tough quality ideal for versatile use
Attractive design and look
Extra-long reach
Cons
Must be used compliantly with polished aluminum hawse fairlead
The Warn Spydura is the ideal synthetic winch rope to use with Warn winches. They will fit perfectly, and Warn winches are compliant with the safety needs of their synthetic rope.
However, despite this, it is still ideally usable even if you have a different winch. The only problem with not using a compliant fairlead is that it will tear and wear quicker.
8.

X-Bull SK75
Best Synthetic Winch Rope for wet conditions
Designed with extra moisture repelling material and the ultimate in strength, the X-Bull SK75 is ideal for marine use. Even in the most daring circumstances and the worst conditions, the SK75 is guaranteed to hold up to expectations.
Made from an innovative material that is both light and resilient, it offers significant power.
Key Specifications
Length: 100'
Width: 3/8"
Max Force: 23000lbs
Material: Proprietary braided synthetic material
Fit: Universal
Pros
Versatile design tough enough for rough use
Guaranteed to last and perform to expectations
Cons
Minor complaints by customers
If you are looking for a durable synthetic winch rope that is suitable for cold and wet conditions, the X-Bull SK75 is the optimum purchase.
With its high strength and durable quality, extra safety guards, and moisture resistance, this is the ideal rope for water sporting adventurers.
Overall it is one of the toughest rated winch ropes out there and is a good investment for just about anybody. The quality of the purchase is well worth the price.
With extra UV light protection and the inability to absorb water, it is ideal to use on fishing trips or wet and muddy conditions.
It is easy to handle, and with all the included extras such as two protective sleeves and a metallic loop eye, it is a perfectly safe option.
9.

Smittybilt CC121
Best Synthetic Recovery Rope
Smittybilt is a brand best known for its high-quality automotive accessories that are widely loved by its many supporters. Creativity, innovation, and productivity are the key attributes to the brand's motivations and vision.
Through applying these basic principles into their designs, Smittybilt develops the best of products to present to their customers.
Key Specifications
Length: 30"
Width: 1'
Max Force: 30,000lbs
Material: Woven Nylon
Fit: Universal (like a recovery strap)
Pros
Tough and thick for serious needs
Sturdy, reliable quality
This is the ultimate replacement for traditional recovery straps. It is tough and durable enough to support you in the most challenging situations. Because it uses no metal parts, it is as safe as can be.
The CC121 Synthetic Recoil Recovery Rope is no stranger to the company's standards. It carries X-Bull's guarantee and quality that promises to never let you down.
When the strength of traditional recovery straps fails, the Smittybilt CC121 will get you out of any hairy situation. Designed particularly for automotive use, it is the ideal recovery utility rope that you could possibly buy.
Buying Guide for Best Synthetic Winch Rope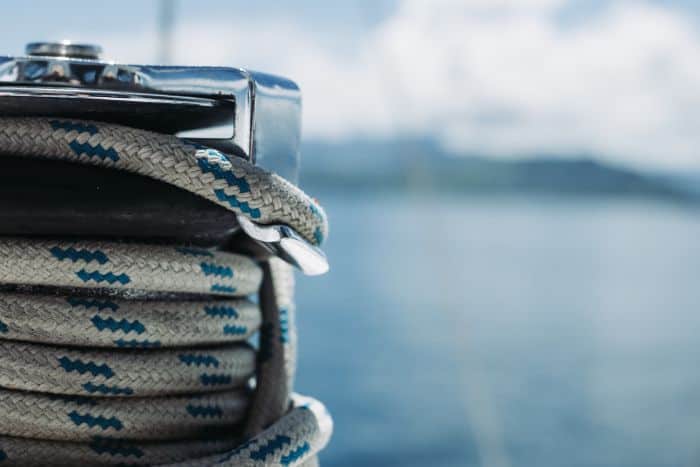 Before you make a payment for your synthetic winch rope, make sure to read this buying guide.
It will help you in saving your money by investing in the right synthetic winch rope, instead of the wrong one.
Here is a perfect buying guide for buying synthetic winch rope.
Strength
It is essential to look into the breaking strength of the synthetic winch rope before you buy one. In the market, there is a bulk of synthetic winch ropes from different brands.
Each one of these varies from each other in their breaking strength. You must go for that synthetic winch rope, which has the highest strength so that it may not break in a short time.
Material
Choosing the right material makes a significant difference whenever it comes to buying the winch rope. You may be thinking that all of the synthetic ropes are made up of the same material.
However, this is not the case.
The composition of different synthetic winch ropes may differ. Therefore, you must check if it contains the most durable materials or not.
Length
Another essential aspect to look into is the length of the winch rope. You will find different synthetic lines with different lengths. Although increasing the length of the rope will also increase its price, but you still consider it.
It is always recommended to go for buying the longer-length synthetic winch rope instead of a short one. It is because you can use the large length rope in all situations but not the shorter one.
Cost
Obviously, you must look for the cost of the synthetic winch rope before you select one for your vehicle.
A good idea is always to choose one that you can easily afford. It is a wrong step to go over your budget and then keep worrying about other expenses.
However, try to make a little flexible budget for buying the best synthetic winch rope because it will go further in the long run.
Maintenance
No one has the time to perform the maintenance task for his synthetic winch rope. Therefore, you should never choose a rope that requires maintenance.
Instead, there are a number of ropes available in the market which require absolutely no maintenance.
Such maintenance-free ropes help in saving plenty of your precious time, along with serving the purpose. Therefore, make sure to purchase a maintenance-free synthetic winch rope for your car, jeep, or any other vehicle.
Types of winch ropes available
There are two kinds of winch ropes that have been in use for years. These include the steel winch rope and synthetic winch rope.
Although both of these ropes have the same function, i.e., to pull a vehicle, they differ in their features. To learn more about these winch ropes, read the following.
Steel
Steel winch ropes have been used for a long time. They are still very popular and are made up of a steel structure. Due to the addition of steel in their formation, they are very high-strength ropes.
You can use these ropes for the toughest terrains, e.g., rocks or muddy areas. These ropes are also cheaper than the other types.
Furthermore, the steel winch ropes are the ones that require the minimum maintenance or sometimes no maintenance at all.
Synthetic
Synthetic ropes are the latest winch ropes but are highly effective as well. A number of people now prefer to use synthetic winch ropes for their vehicles due to their amazing features.
For example, these ropes are the safest ones to use and are the lightest in weight, as compared to others. In contrast to steel winch ropes, the synthetic lines usually require maintenance, but there are also maintenance-free versions.
To get an idea about the differences between both of these ropes, move on to the next section.
Steel vs. Synthetic Winch Rope
Steel and synthetic winch ropes are very common and readily available in the market. Both of these serve the purpose of dragging or pulling either light-duty or heavy-duty vehicles.
However, there is a great difference between both of these winch ropes. Let's see how!
FAQs
If you have reached this point but still have a few questions left in your mind, take a look at these commonly asked questions to find out more.
Why should I buy a synthetic winch rope?
Buying a synthetic winch rope is vital because it can help you in all difficult situations. For example, you can use it whenever you have to pull out your stuck vehicle.
Which winch rope is the best among all?
Synthetic winch rope is the best among all because it is safest and lightest.
Can winch heat damage the synthetic winch rope?
Yes, it can. However, it can happen in very rare cases, so you shouldn't worry about it.
Summary
As there is great variety in synthetic winch ropes, it is now more challenging to choose one for your vehicle. However, if you need to buy one for your car/jeep, make sure to look into a number of aspects.
It is also essential to go through the buying guide to buy the right rope that will work for you.
Otherwise, it will be a waste of money, and you will end up regretting or looking for another one.
Check top picks for Winch in the market today>